EZ-See series Hedland type high pressure flow meter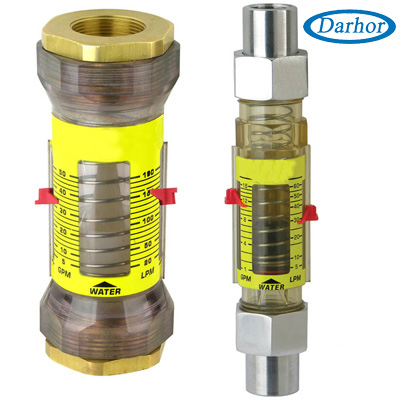 EZ-See series Hedland type high pressure flow meter

The EZ-See Flow Meter is a variable area instrument. A precision molded, sharp-edged Orifice, located within the Piston Assembly, forms an annular opening with the Metering Cone. Flow through the meter creates a pressure
differential across the sharp-edged orifice, moving the piston against the Spring.

The unique spring loaded design allows meters to be installed in any position without effecting accuracy. It can be installed
into horizontal or vertical lines, or with an optional inverted flow scale, this meter can monitor flow in a downward flowing line.


Model

Measuring Range

WATER 20C

AIR 20C

Thread

NPT

BSPT

BSP

Material

GPM

LPM

GPM

LPS

EZ-

15

20

25

0.5-5

1-7

1-10

1-16

3-18

4-28

2-20

4-26

4-35

5-60

15-65

20-100

80-320

160-480

240-720

320-1100

480-1250

550-1750

5-20

10-30

15-45

20-70

30-80

35-110

1/2

3/4

1

Brass

S S

PVC

EZ-

40

50

3-25

5-50

8-80

10-100

12-90

20-200

30-280

40-380

250-1500

350-2200

450-4500

700-6000

15-95

20-140

25-275

45-370

11/2

2
Related Products